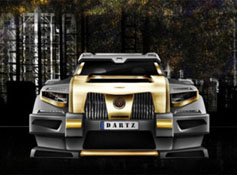 February 10th 2013 marks the New Year according to the Chinese lunisolar calendar. Each New Year is represented by 1 of 12 creatures of the Chinese Zodiac, 2013 will be the year of the Snake.


Chinese Luxury car manufacture DARTZ Motor Company will unveil the companies first Mercedes GL 63 AMG based luxury vehicle geared toward the Chinese market.


The Black Snake is an all-wheel drive high performance vehicle with diamond encrusted hood ornaments expected to cost well over $1,000,000.


Since it's based on a S-Class Mercedes-Benz owners should expect the comfort and performance of only the best available luxury model. AMG supplies the 5.5 liter twin-turbo engine producing a whopping 556 hp and 560 ft-lbs. of torque and is expected to go from 0- 60 mph in 4.9 seconds. The body of the Black Snake is an armored aluminum alloy making it a "Bulletproof Investment"