Auto Appraisal Network is headquartered in Southern California and has been serving communities across the country and internationally since 1989.  Auto Appraisal Network offers an opportunity that affords you freedom, stability and the chance to do what you love for a living, through a brand recognized nationally as the "Best in the Business".
Our centralized appraisal report process and national network of certified appraisers ensures consistent, accurate and professional appraisal reports everytime, regardless of where the appraisal inspection is performed. 
Our appraisers all have an automotive background or a general passion for cars, which is a requirement to become an  Auto Appraisal Network appraiser. 
We provide a complete training program at our headquarters in Southern California where you'll  learn all about our processes, how to utilize our proprietary software, as well as the different kinds of appraisal reports you will be preparing. Our appraisers have varying experience and areas of expertise in different types and vintages of automobiles, watercraft and motorcycles and often help each other out when needed.
 Auto Appraisal Network works directly with many of the nation's top financial institutions and insurance companies that support collector and custom vehicle markets. Many of our appraisers provide expert witness testimony and expert opinions in the local markets they support.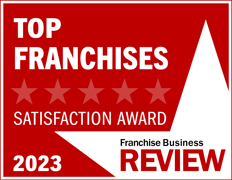 On a biannual basis, Franchise Business Review surveys our appraisers and ranks us against similar automotive franchises based on satisfaction and performance.  
The Franchisee Satisfaction Index (FSI)™ is the industry standard by which the health of a franchise company can be measured and tracked over time. Established by Franchise Business Review, FSI is a collective assessment of the critical areas of franchisee satisfaction and engagement. 
FSI measures: Training & Support, Franchise Operations, Leadership, Core Values, Franchisee Community, Operator Self--‐Assessment, Financial Performance and General Satisfaction. 
Our rankings have earned us awards for Top Service, Top 100, Top Franchise for Veterans, Top Low Cost and Top Automotive Franchise awards.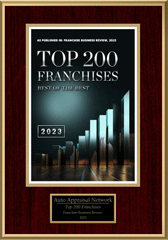 Our appraisers are members of the International Automotive Appraisers Association (IAAA) and have been trained, tested and certified to the industry accepted and recognized Uniform Standards for Automotive Appraisal Procedures (USAAP).

Our appraisers are members of the American Society of Appraisers Association (ASA) and have been trained, tested and certified to the industry accepted and recognized Uniform Standards of Professional Appraisal Practice (USPAP).
Auto Appraisal Network and our appraisers are members of North American Dealers Association (NADA) Classic and Collectibles Board of Advisors and the Specialty Equipment Manufacturers Association (SEMA).
We are the Appraisers of Choice for virtually every Classic, Customized, Street-Rod, Hot-Rod, Specialized, and Custom Bike builder, consignment house, component supplier and fabricator in the U.S.
The Opportunity You've Been Looking for
Be your own boss
Get paid to look at classic and collectable cars
Operate a business with very low overhead.
Learn to produce highly detailed professional appraisal reports
Experience tremendous growth in local markets
If you've been searching for an auto franchise that isn't in the 10-min oil change spectrum, mechanical field or car wash and detailing arena, an auto  appraisal business might be perfect for you! With virtually no national competitors in this booming industry, you'll have a unique opportunity to establish a successful appraisal franchise business in your local community. Consider Auto Appraisal Network as your portal to this quickly growing market.
As a certified AAN appraiser, you'll be fully immersed in the classic, collector, custom, show car and street rod culture and will be recognized and respected in the industry as an appraiser making significant contributions to the profession.