Auto Appraisal Network- Riverside & San Bernardino counties
Your local Auto Appraisal Network Certified Appraiser is:
Mark Peterson
MarkP@AutoAppraisalNetwork.com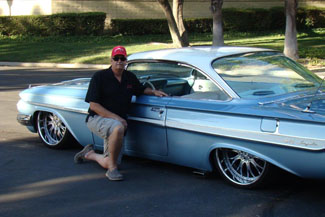 Mark Peterson is your independent auto appraiser in Riverside and San Bernardino Counties, CA  for classic and collectible cars. Auto Appraisal Network of San Diego and San Bernardino does appraisals for insurance policies, diminished value and prior-to-loss claims, fair market value, to obtain financing, and for legal needs such as divorce and estate (probate) cases. They also provide expert witness testimony for estate and divorce settlements.  They appraise classic, custom and late model vehicles, including cars, trucks, motorcycles, boats, personal watercraft and recreational vehicles, such as camper trailers, ATV's, car haulers and more throughout San Diego, San Bernardino and Riverside counties.
Mark has 20 years of experience doing car appraisals with Auto Appraisal Network, and a lifetime of experience with cars. 
A Certified appraisal from Auto Appraisal Network helps you protect your investment. Whether you need an appraisal to obtain enough insurance coverage, to sell your ride or buy someone else's, following a traffic accident, or for probate or divorce proceedings, Auto Appraisal Network of San Diego and San Bernardino can help. Our certified appraisals are widely accepted by insurance providers, courts and financial institutions nationwide.    
In Riverside and San Bernardino Counties, contact Mark Peterson at (909) 587-9424 for your appraisal needs, or just click "request an appraisal" and we'll get in touch with you! Visit Mark's official website at autoappraiser-sandiego.com/
Auto Appraisal Network of Riverside and San Bernardino supports the following cities and metropolitan areas: Riverside | Moreno Valley | Norco | Corona | Rancho Cucamonga | Upland | Ontario | San Bernardino | Redlands | Highland | Fontana | Chino | Diamond Bar | Pomona | Yucaipa | Lake Elsinore | Murrieta | Temecula | Hemet | Beaumont | Banning | Calimesa | Idyllwild | Fallbrook | Palm Springs | Coachella | Palm Desert | Morongo Valley | Twentynine Palms | Victorville | Indio | Barstow | Redlands | San Diego
Speak with an appraiser today!