Utilizing your current automotive experience and relationships within your local market, Auto Appraisal Network will train you to market and provide our appraisal services to your clients with accurate highly detailed appraisal values of their vehicle.
You will be providing your clients with the most professional, most comprehensive, most detailed automobile appraisal documents available.
For no fee, we will help you test market our services in your local market, provide training and certification and upon completion of certification we can then offer you a the exclusive rights to market and provide our services in your designated market. You will benefit from our experience, impeccable reputation, national advertising and website presence.
We provide to each appraisal territory the following:
Exclusive rights to appraisals within your territory
National and regional advertising
Centralized report processing
Corporate marketing support
Call center/toll free number
Corporate marketing support
Completed report distribution
Software updates as released
Vehicle research documentation
Training and Certification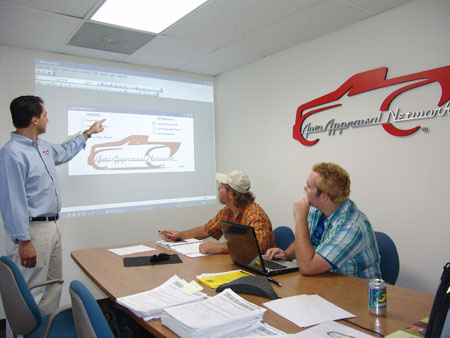 Appraisal Training Objectives
Business Overview, Equipment Setup and Software Training
Marketing, Customer Service, Operations and Photography
Stock Vehicle - Research, Inspection, Photography and Process Review
Custom Vehicle - Research, Inspection, Photography and Process Review
Testing and minimal assistance as needed field Appraisal
Successful Unassisted field appraisals for 6-months to complete Certification
Upon Certification you have first right of of refusal to purchase exclusive rights to your Designated Territory
If needed, We offer basic computer training as it applies to using our process and software. If you require basic computer training in addition to the scheduled appraisal training it will be held prior to the scheduled training.