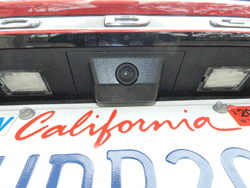 If you've been driving a car for decades, you might be surprised by some of the advances in vehicle safety technology. Think back to the first car you drove, if you're middle-aged or older, there's a good chance that the safety features were very minimal (and safety belts were optional). Fortunately, today's safety standards are substantially higher and will continue since "Safer cars, along with safer drivers and roads, are key components in ensuring the annual number of traffic fatalities remains on a downward trajectory," says NHTSA's David Strickland.
Even in the last ten to fifteen years, safety features have greatly improved. For instance, in 2000, the "big" modern safety features were airbags and anti-lock brakes, but now all newer vehicles are equipped with much more than the frontal airbags. Vehicles today have side, knee, and seat belt airbags to increase safety during different types of impact. Although airbags are a safety must, there are a number of other safety features that will surely make their mark in the future of vehicles.
Safety Features That Will Become Standard
Even safety features that have already become standardized, like airbags, need to be upgraded and modified for optimum performance. "When a critical safety system fails on a vehicle, the outcome can be devastating, resulting in serious injuries or loss of life," says Rio Grande Valley, TX car accident attorney David E. Herrman. Take the recent Takata airbag recall, automakers aren't automatically going to give up on airbags, they're going continue to improve them until there are no more threats of personal injury to drivers.
Aside from improved airbags, here are a few safety features we can look forward to seeing more of in the future:
Rearview Cameras: The U.S. Department of Transportation has been trying to mandate the use of rearview or backup cameras since 2010, but the cost was deemed too great. Fortunately, starting in 2016, rearview cameras will become a standard safety feature in new vehicles. In the past, rearview cameras were usually an expensive add-on, but this life saving device is estimated to save 58 to 69 lives each year, according to NHTSA. Without rear view cameras in place, back-over accidents kill an estimated 210 people in the U.S. each year and causes another 15,000; young children and elders being at greatest risk.
Front & Rear Crash Avoidance Systems: According to the National Transportation Safety Board, crash avoidance systems should be treated with the same standard importance as safety belts, rather than be a pricey option for car owners. While there's no specific deadline slated for crash avoidance systems to becoming a standardized safety feature, drivers can keep their fingers crossed that the change will come before 2020.
Forward collision avoidance systems may include collision warning monitors which alert the driver if a crash is about to occur and can alert the driver to brake or brake the vehicle itself. Other components include electronic stability control and lane departure alert. Crash avoidance systems substantially decrease the amount of rear-end crashes that kill and injure thousands each year.