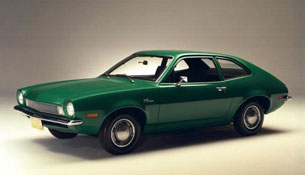 Just when I had forgotten the Pinto…


Ranked #21 in the 50 worst cars of all time by Time Magazine the Pinto was Ford's subcompact offering when gas shortage caused panic at the filling station. Well there are folks collecting these cars and will be paying tribute by driving the little fireballs across the United States.


The Pinto Stampede that is coming to a city near you–Salina, Kansas May 29th; Columbia, Missouri May 30th; Indianapolis May 31st; Cambridge, Ohio June 1st; and ending up the next day at Carlisle, Pennsylvania. Pinto devotees will be making their way from Denver Colorado to Carlisle for the All Ford Show. They will be celebrating the Pinto's 40th birthday.


NADA Guides shows a top of the line 1971 Pinto with a 429/360 engine and A/C demanding a whopping $6,400 or a mere $2,725 for the typical 1.6 liter 4-cylinder 2-Dr sedan. Not bad for a car with a then MSRP of $1,850. The Pinto would have collapsed with a 429 in it.