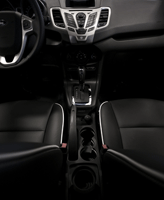 Manufacturing the fastest production cars on earth is a delicate science that takes a great deal more than simply stuffing a big engine into a relatively small sports car. Making a good-looking car that pleases everyone— that can be handled by average drivers at ridiculous speeds, will look impressive and expensive at an auto show, and that takes into account the complex math that goes into aerodynamics and drag coefficients that prevent that car from taking flight at 200 mph— is an engineering miracle. The following five cars are miracles of modern engineering in both their design and their manufacture. While these cars may be out of most of our reach, it's still fun to dream. For fast cars that are a little more within our reach, like the Cadillac ATS, visit sites like automotive.com for reviews and information!
Bugatti Veyron 16.4 Super Sport
The beautiful Bugatti Veyron Super Sport almost resembles a street-legal Batmobile. The thing is, it would humiliate poor Batman. Its top speed of 268 mph gives it the prestigious title of "fastest car on earth." Powered by an 8.0-liter W16 quad-turbocharged engine that puts out 1,184 bhp and 1,100 lb.-ft. of torque, the Veyron Super Sport goes from 0-60 mph in 2.4 seconds, and runs a standing quarter-mile in 9.6 seconds.
According to Bugatti, eight highly skilled employees produce only one or two Veyrons per week, as each one is assembled piece by piece in Bugatti's immaculate and futuristic Atelier workshop. The glossy white floors and large windows encased in steel make it look like a place where spacecrafts, rather than cars, are assembled.
Hennessey Venom GT
The Hennessey Venom GT is a gorgeous super-sports car built by Hennessey Performance Engineering. It is crafted from a heavily modified Lotus Exige chassis, and looks like it came straight from the GT circuit. Producing up to 1,200 bhp and 1,155 lb.-ft. of torque, the company claims a top speed of 275 mph is achievable, but its top verified speed is 260 mph. It can go from 0-60 mph in just 2.5 seconds and run the quarter mile in 9.9 seconds.
Hennessey builds the Venom GT's engine in Sealy, Texas before shipping them to Silverstone, England for assembly and testing. Production numbers are limited to just 10 Venom GT's each year. They offer demonstration rides to clients at their company-owned drag strip and private roads, officially called Lonestar Motorsports Park and every car comes with a free 1-day driver orientation and coaching session in either the U.S. or the U.K. with a Hennessey factory test driver.
SSC Ultimate Aero
SSC North America, formerly known as Shelby SuperCars, produces the SSC Ultimate Aero. The SSC Designed Billet Aluminum V8 Block twin-turbocharged engine cranks out 1,287 bhp and 1,112 lb.-ft. of torque and rockets the Ultimate Aero from 0-60 in 2.78 seconds, down a quarter-mile in 9.9 seconds, and up to a projected top speed of 273 mph; however, the top speed has "only" been tested up to 257 mph.
The SSC Aero SC/8T prototype#001 was built upon the Lamborghini Diablo Replicar chassis, and it retains the iconic Lamborghini mid-engine look. This prototype also utilized an engine that was sourced from the Corvette C5R, and the 6-speed manual G-64 transmission that is also used by the Dodge Viper. The simulation and testing that resulted in its projected top speed took place at none other than NASA's Langley Research Center in Hampton, Virginia.
2013 Koenigsegg Agera R
The 2013 Koenigsegg Agera R is the second generation of the Agera R, and it still has the ultra-fast look that comes standard on mid-engine super-sports cars. It's powered by a 5.0-liter twin-turbocharged V8 that produces 1,1140 bhp and 885 lb.-ft. of torque. The 2013 Agera R is touted on Koenigsegg's website as a flexfuel car, and can run on ethanol E85 biofuel or, at reduced power, on 95 octane petrol. Its projected top speed is a blistering 273, with a tested top speed of 250 mph and it can go from 0-60 mph in 2.8 seconds.
The 2013 Agera R is the world's very first car to utilize production engines with nano-surfaced cylinder sleeves that reduce both friction and fuel consumption. As a percentage of any car's fuel is used to overcome engine friction, the inclusion of this relatively new technology is quite exciting. They're made at a formerly abandoned F10 Air Force base in southwestern Sweden on the outskirts of Ängelholm.
Saleen S7 Twin-Turbo
The Saleen S7 Twin-Turbo super sports car looks like a hybrid of a Grand Touring circuit car and mid-engine auto show headliner. In fact, the Saleen S7 is made in a racing version as well— the Saleen S7R. The 7.0-liter Ford 427 twin-turbocharged V8 engine is a revision to the original S7's naturally aspirated power plant. The turbocharged version pumps out 750 bhp, 700 lb.-ft. of torque, and can jump from 0-60 mph in 2.8 seconds, complete the quarter-mile in 10.5 seconds and reach a top speed of 248 mph.
The Saleen S7 is certified to sell in both the U.S. and the U.K., with its production headquartered at Saleen's manufacturing facility in Irvine, California. It is hand-built in the same 150,000-square-foot facility as Saleen's Mustangs. An impeccable room called the Speedlab is where its huge engine, which is roughly based upon Ford's NASCAR racing engine, is assembled.