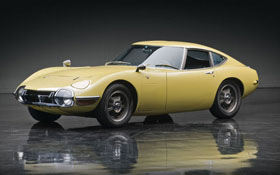 An update to a previous blog dated 3/20/13. Previous Blog


These cars have been setting records and selling for a bit short of $1,000,000 Sold new this '67 2000GT sold for $7,230. Fast forward to the recent Don Davis Collection Auction in Fort Worth Texas and this Toyota 2000 GT sold for $1.15 Million Dollars!


Restored to the highest standards, expertly painted in its factory original Bendix Yellow with a like new 2 liter inline-6, 3x2 SU carburetors, 5-speed manila transmission, 4-wheel independent suspension and 4-wheel disc brakes.


This record price having been paid, my indicate the time has passed to find one of these cars to add to you collection before the price went through the roof. Looks like the ship may have already sailed.