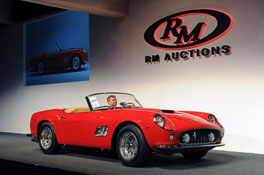 Where can an investor make money these days? The banks aren't paying any significant interest, real estate is still flat, stock come with too much risk and no guarantee of any return, even gold has stalled at record high numbers with now here to go but down.


Where can a savvy investor make money these days? Collector cars.


As an example, Gold started out a year ago at $1,800 per once and today is $1,768 loosing roughly -2.93% while "the Ferrari Index" is up over 14% for the year. That's right, nothing is paying 14% these days.


Oh yeah, don't try and find the Ferrari Index symbol, it's not available, we use the average of the values of 13 of the most sought after street Ferraris of the 1950s-70s. Cars like the 250 GT, 275GTB/4, 365 GTB/4 and 246 Dino.


The Muscle Car Index started at $217,300 and ends the last 12 months at $233,800 that's 7% over the last 12 months


English Cars are up 9% $63,000 over last Augusts' $56,800


German Cars are up 20% August 2011 $206,400 August 2012 $359,700


It's not all Roses, the American 1950"S Cars are Down 2.6% 2012 average $115,000 Vs. 2011 average $118,000.


No matter what your investment level is, there is a collector car for you that can make you a decent return n your investment and you can't drive a 401(k).


Consider making a classic car part of your investment portfolio. As Appraisers we track this kind of information and the key to getting the right investment starts with getting an appraisal to make sure you know what you're buying. After your purchase we can also help you to insure your investment getting you the protection you need to Insure your Investment and in the event you need to sell, our appraisal reports can help you market the car and reach out to other collectors worldwide.


Remember the First rule of investing, Buy Low, Sell High…


Protect your Investment. Have it appraised!