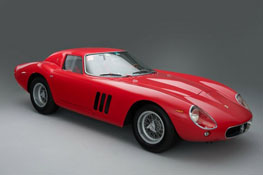 Based on the growth in value of some of the top collector cars the past few years, IGA Automobile is putting together a portfolio of historically significant and highly collectible cars for its investors. The new investment fund targets raising $150 million in capital and turning it around over the course of seven years to earn its investors a 15% profit. To get there, IGA is looking at buying cars like Ferrari 250 GTO, Aston Martin DB4 Zagato, Ford GT40, McLaren F1, Shelby Daytona Coupe and Porsche 917 and selling them at a profit.


The fund has solid basis for its financial projections: record prices have been fetched in the past few years by such exemplary automobiles as a 1957 Ferrari 250 Testa Rossa ($12 million), a 1961 Ferrari 250 GT California Spyder ($11 million) and a 1936 Bugatti 57SC Atlantic (~$35 million). Overall, Hagerty's "Cars That Matter" index rates prices for collectible postwar automobiles as having gone up 67% from 2006 to the end of last year, compared to the S&P 500 Index, which dropped 5.9% over the same time period.


Of course they'll have to find buyers willing to part with their cars to turn them around, but the fund plans on investing some $150 million over the course of 7 years and turn a 15% profit for its investors.


Among those reportedly on board is Pink Floyd drummer Nick Mason, a noted collector.