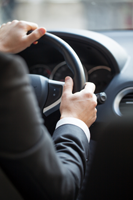 When it comes to small business expenses, few items stand out on a "to buy" list quite like an automobile. The government tries to ease the financial burden by offering tax breaks for certain business uses, including the IRS' deduction for vehicles that are used for fewer than 5,000 miles per year. If you plan to buy or lease a used vehicle for business use, a thorough test drive is in order. But what needs to be checked out? We've got some tips:
Look for Environmental-Specific Vehicles
First, identify your specific needs with this business vehicle. Do you want to transport partners and customers in style, or are you looking for a local delivery car? Just like NASCAR drivers tailor their cars to fit each individual track, so, too, should you look for the vehicle that fits your business environment. If you operate in a cold-weather city, get a more powerful engine with better suspension and braking to handle icy roads and snow.
Go Over the Exterior
Before you even open the door to put the key in the ignition, walk around the vehicle and inspect it closely. Check that the lights work, the mirrors are aligned, and that the hood and door latches catch without needing to be forced. Check the tires: Are they all firm and responsive, without seams or splits? Are they all the same size? Is the tread worn? Don't let tires in poor shape be a deal-breaker, if the car is otherwise in good shape. You can buy new BF Goodrich tires starting at about $78 each, and then use the expense to negotiate the asking price.
Take Note
How long and hard a used vehicle has been driven will impact how much of a lifespan you can expect to get out of it for your company. According to the Department of Transportation, the average American puts about 13,000 miles on a vehicle per year. Take note of the vehicle's mileage to get a rough estimate of how long it has been on the road. Ask to see an oil change history and if the transmission fluid has ever been changed.
Go Long
Don't settle for driving around the block when you take a used car out for a test drive; make sure you take the vehicle out on the highway and see how it reacts to high speeds. Listen for clicking sounds from the engine or rough-feeling gear changes, and note if you smell hot oil—these could be signs of transmission trouble.
Back on the back streets, don't forget to drive it in reverse to see how it handles when you need to parallel park. Let go of the steering wheel to see how the alignment is. Do your best to put the vehicle in any situation that it would have to perform when your company is liable for its payments, insurance and registration.