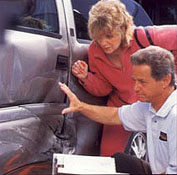 The appraisal your insurance company provides can also be confusing. These are the estimates generated by the insurance company to determine the value of your vehicle.


To the untrained eye, you read through it quickly go to the bottom line and see a value that is typically lower than you had expected. It appears all the elements needed are there and adjustments have been made, tax and license fess have even been calculated. What could be wrong?


The first question should be, is the settlement value enough to replace you car? Look around in the local market place and see what comparable cars are being sold for.


If you feel the valuation is inadequate here are some typical reasons why.


The vehicles use to determine the base value my not be from you local market area. They may also not have the same options or mileage. The comparable vehicles in many cases are actual claim vehicles in a national database.


What standard was used to determine the allowances for mileage and options? The most common place to find these published values is in any of the values guides. The same values guides that will be quoted to you when you trade in a vehicle or when you are buying a vehicle. But insurance companies use their own in-house way of valuing your mileage and options and as you may have suspected by now, it