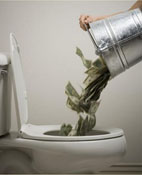 You may be throwing money down the drain.


You may be entitled to recover the Diminished Value of your car because it now has an accident history.


Diminished Value is the amount you're not going to get when you sell you car because it's been in an accident. If your vehicle suffered significant damage in an accident that was not your fault, you are entitled to file a claim for the Diminished Value.


You won