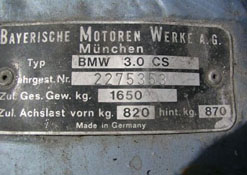 Your modern, classic or custom car VIN (Vehicle Identification Number) is more than an arbitrary number assigned to your car to make it unique, the VIN is packed with encoded information about your cars drivetrain, body style and manufacturing information.


Late model cars starting roughly in 1981 all have a 17-digit VIN number which contains the country of origin, drivetrain and body style. The same VIN is used to track information about your cars registration, accidents and insurance claims history.


Classic Cars have roughly the same information but its split between the VIN Tag and either Cowl tag, Fender Tag or Door tag depending on the manufacturer of the vehicle. Ford uses a Door Tag to document the Factory Paint, trim, Body type and Date of Manufacture. General Motors uses a Cowl tag to record the same information on all the GM products and Mopar uses a Fender tag for this information. Classic cars have shorter VIN numbers, but roughly the same information is encoded in them.


People often call us and ask for us to validate the numbers on their car as a Numbers Matching or factory original car. In order to do this we collect all the applicable information from the designated locations to determine what exactly they have.


If you have a classic or collectible car you would like to find out more about, you can contact our Orange County office in Lake Forest, CA @ (949) 387-7774 and we'll tell you where to locate the applicable ID information and we'd be glad to decipher this information for you.