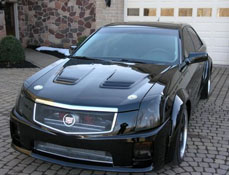 By the standards of today's collector cars, what are the potential collector cars of the future?


Cadillac CTS-V powerful and comes with an available manual transmission at a time when no one is building cars with a real manual transmission.


BMW M-series the performance version of the popular German sports car, limited quantities and don't forget the Alpina and Dinan upgrades cars.


Mercedes SLR and SLS not really available to most of us, but neither was the 300SL Gull wing.


While a lot of cars are producing phenomenal horse power these days, the all controlling government would like to entice you to drive something a bit more practical, bumping up regulations requiring better fuel economy. So what do you think that will mean in the future. Engines are going to shrink, turbo charging will be standard and those 300+ horsepower cars are going to once again be collectible in the future. So if you looking for a car to buy and mothball get the most powerful engine and by the way you may want to stockpile some gasoline to run it on as hydrogen, electricity, natural gas and diesel may be the only fuels available in the future.