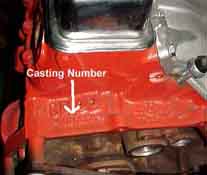 Sent: Friday, April 18, 2011 9:5 AM


Subject: Re: Block Casting Pictures


Woody,


If you don't mind I'd like to send a copy of your report to Jose so he can see the Quality of your reports for himself.


I'm also going to contact Jerry who sent me samples of his report. While his name may add something , his actual reports look nothing like yours, they don't even have any pictures.


I now have my car insured for the replacement value based on the replacement value assigned in your report which is very close to what I have spent on the car to date.


Thank you for your excellent, professional appraisal, even your picture surpassed my expectations. It was a pleasure to deal with you. I'll recommend your organization to my friends without reservation.


Best regards, Mark