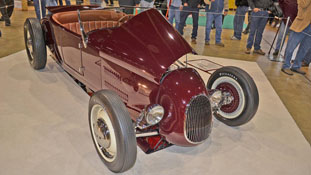 The Grand National Roadster Show, which held its 64th annual America's Most Beautiful Roadster award, the most prestigious honor in the field, goes to the hot rod that best mixes art and mechanical skill.


This year's winner was built by famed builder Roy Brizio and owned by John Mumsford was chose from 500 entrants. It's a 1927 Ford Roadster with a Model T chassis and Model A bodywork, a Flathead V8 engine with an overhead valve setup mad by the creator of the Corvette Zora Arkus-Duntov.


What makes this car a winner is that it's fabricated from so many different vehicles, yet looks to be a factory original. For this period manufactures used what was called an L-head Flathead engine easily recognizable by its large Flat cylinder heads. The Flathead engine design places the intake and exhaust valves adjacent to the piston cylinders as opposed to the valve being above the piston in a Overhead Valve configuration as we use today. The Ardun Overhead Valve configuration used on this Hot Rod is the father of what we know today as the Overhead Valve engine. These specific heads are only one set of eight built by Arkus-Duntov made of heat treated cast aluminum with hemispherical combustion chambers. These Ardun heads are sought after like rare jewels and yes, it's a Hemi….