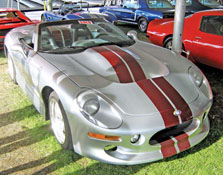 The Shelby Series 1 was a high-performance roadster manufactured by Shelby American from 1996 to 2002. Only 249 Shelby Series 1s were built, and this was the first running car, as well as the "pre-production" #1 Series 1, which was featured on the cover of Motor Trend.


With a carbon fiber body, sophisticated chassis, and Oldsmobile 4.0-liter Aurora V8 engine, it was considered a modern reincarnation of the 289 Cobra. It was the first Shelby vehicle built with a Shelby-designed chassis, body, and suspension. Weighing 2,650 lb, the 320-hp sports car went 0-60 mph in 4.5 seconds and recorded 12.8 seconds in the quarter-mile at 112 mph; top speed was 185 mph. A post-title supercharger package from Shelby propelled the car into supercar status, with 0-60 mph times of 3.2 seconds and the quarter-mile run in 11.35 at 124 mph. Approximately 80 Series 1 cars were supercharged by Shelby.


Most Series 1s came in the signature silver color with blue stripes. This car, "PP1," was used for dealer and public drives given by NASCAR legend Davey Hamilton and Shelby test driver Gary Patterson. The car will be listed in the Shelby World Registry and is sold on a bill of sale.


Estimated Value $75,000