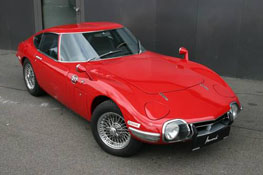 Toyota's first car into the Grand Touring marketplace and a highly collectible car in it's own right. In 1969 this was Japans Supercar in a market shared with Porsche, Jaguar and Ferrari.


Powered by a 2.0 liter double overhead cam, producing 150hp using 3 Solex 40 carburetors out put to a 5-speed manual transmission, a limited slip rear differential and 4-wheel disc brakes and aluminum body.


Only 351 cars were built of which 60 were destined for the US market.


Fine examples sell at auction for $275k to $375k.