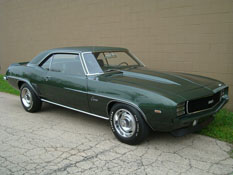 According to documents, the car originated from Nickey, was sold to Berger and touts COPO numbers 9561 and 9737 with a Rally Sport factory option.


Offered without reserve for Auction sale at Russo and Steele Collector Automobile Auction in Scottsdale, Arizona January 19th-23rd, 2010.


It has a numbers matching drive train and is loaded with options including the Yenko Sports Car Conversion Option. It has a M40 TH400 automatic transmission with Chambered Exhaust and Endura Bumper. It is also equipped with a center console, power steering and a vinyl top. It is complete with restoration photos and full owner history. It is registered with the Super Car Registry and is certified as an authentic 9561 & 9737 COPO Camaro by Nickey Chicago, Inc.


The Central Office Production Order or COPO, was a way to acquire, generally unobtainable, special items which were not listed as available on Chevrolet's RPO/Regular production order spec sheets. COPO 9561 was the Camaro Iron block, 427 cid, RPO L72 rated at 425hp. COPO 9737 was the Yenko Sport Car Conversion option, consisting of E70X15 tires on Rally wheels, a 140 mph speedometer and a 1 inch stabilizer.