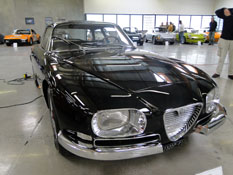 One of 105 true Zagato built cars. 2.5 liter straight six, alloy dual overhead cam with triple carburetors 145 hp. SZ = Sprint Zagato


The 2600 series was never a big seller (over 11,000 made, 1962-68) because it was expensive, at list prices starting at $4,700 and going up past $6,000. Most cars had saloon bodies but a very few had special bodywork. This car is one of the rare, lightweight, Zagato-bodied coupes which are the most desirable of all 2600 variants. Built with performance-oriented touring in mind, just 105 SZ models were made and they were capable of more than 135 mph/216 kmh.


The triple two-barrel Solex carburetors must be carefully maintained with regular lubrication of the vacuum-operated mechanism that controls the secondary in order not to burn valves. (The Solexes are actually not, strictly speaking, two-barrel carbs, but a primary and a vacuum-controlled secondary on a shared plenum.) A rare and desirable option is triple two-barrel Webers in place of the Solexes.


Protect your Investment