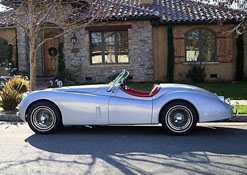 The XK120 was built from 1948 to 1954 and debuted at the London Auto Show in 1948. Named after it's top speed of 120 MPH making it the fastest production car of the period.


Available in a OTS (open top 2-seater) ,FHC (fixed head coupe) and DHC (drop head coupe). From 1948 to 1950 the bodies were alloy with ash frames, post 1950 cars were steel bodies with alloy hoods and trunks.


The 3.4 Liter straight-6 engine output varied from 160HP to 210HP depending on the cylinder head and carburetors fitted.


Jaguar 120 victories include a first place win at the Silverstone circuit in 1949, first place at Palm Beach Shores, Florida 1950.