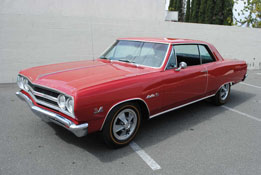 Talk about a rare car, in 1965 Chevrolet built a total of 256 RPO Z16 Chevelle built between February and April 1965 and they are commonly refer to as Malibu SS 396 or Z16's. It's believed that 201 of these cars were built and they are very rare and collectible.


This limited edition was only available to celebrities and dealers across the country and all but one were coupes. The engine was a L37 375 HP, 4-bolt main, aluminum intake heavy-duty suspension, heavy-duty 12-bolt rear-end, 4-speed transmission, power brakes and a 160 MPH speedometer and tachometer.


An easy way to identify a real Z16 is by the Cowl tag which should contain an engine code of "M" which was equivalent to the Z16 SS 396 engine and "2L" M20 4-speed transmission. All Z16 were built in Kansas City so the Body number should also start with KAN and the VIN will start with 13837.


If you have an questions about a potential Z16 car, the folks at the Z16 Registry can provide a written report on your car for a nominal fee. Please go to Z16 registry for more information on these rare cars.