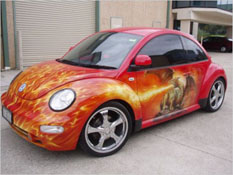 Why do we get so excited about our old cars and the artful hobby of customization of our beloved automobile?


In the course of my auto appraisal business, I am lucky to be able to attend local car shows, and cruise nights, not just local to my office but within the entire Ventura, Santa Barbara, Kern and Los Angels County areas. Whether the show is a large sponsored event or a small fund raiser show for a local charity, the common thread in the event is that it is attended by car guys and their families and close friends. The cars are all unique and all beautiful works of the owner's interpretation of auto beauty and style. Every color and year you could imagine with huge power plants and chrome everywhere. It truly is a site to behold.


Our economy may be in constant disrepair and uncertainty but these folks have a seemingly never ending attitude of hopefulness and passion for their cars and the future. There are customs, hot rods, street rods and collectibles and classics galore, at every show, all different, and yet all the same. They are attended by happy, generous, and helpful people, with great conversations, beautiful cars and of course the best food and music anywhere. It generally doesn't feel like the doom and gloom of the outside world news. One thing for sure is that where there is a passion like there is for old cars there is hope, and that my friends is the best medicine there is for a fearful and uncertain society. See you at the next car show.


Jim Schneider