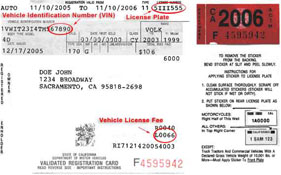 Once you have scheduled to have an appraiser come out and appraise your vehicle. What will you need to provide the appraiser so that they can fully document and provide you with an accurate valuation of your vehicle for its intended purpose?


Most of what is needed should be able to be collected from the vehicle itself, the Vehicle Identification Number, odometer reading, paint codes, trim codes, body code, engine number or casting date.


In order to verify this data your vehicles title or registration will confirm the make model and year of the vehicle and the VIN that is on the title. It's not uncommon for the title or registration to have an error and not match the VIN, number and letter get crossed and frequently typos are found that are easy to correct, but never the less incorrect.


The vehicle history is you have it can be helpful for rare and collectible cars. Many collectibles have a registry for tracking the know vehicles, while you may not be the listed owner in the registry if the paper trail is good, it can be deduced that it's the same vehicle.


Receipts, most owner keep track of the service history and upgrades, in many cases those receipts can add value at the time of a claim, you appraiser will want to take photos of that documentation for the report.


Windows stickers are of great value and it's a comprehensive list of all the options and standard equipment delivered on you car at the time of purchase, your appraiser will want to photograph the window sticker if you have it.


Warranty cards, protect-o-plates, extra keys and magazine articles related to your car are valuable and in many cases the only record of rare dealer installed options.


All of these items will assist the appraiser document you car and properly value it, and to a potential buyer these types of documents are valuable in establishing the history of the car.


Protect you investment. Have it Appraised!