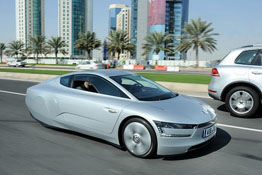 Unveiled at the 2011 Qatar Motor Show, VW's amazing XL1 two seater diesel electric hybrid is a cool super car where miles per gallon matter more than miles per hour.


The XL1 will be the most fuel efficient car in the world, capable of a mind-blowing 313mpg, it saves the planet, saves you loads of money on petrol and is a seriously cool car to look at and drive.


in normal operation, the car stays in electric drive until full throttle is used, speeds exceed 62mph or the battery charge is down to 20 per cent. In e-mode, the car remains on battery power until 10 per cent of its charge remains (about 22 miles), whereupon the motor starts to charge it and power the vehicle. The recharge time is just over an hour using a 240V British household supply (half an hour with a 360V supply). The 2.2-gallon fuel tank gives a range of about 340 miles.


Two-seat, plug-in hybrid, with two-cyl 800cc turbodiesel and 132lb, 5 kWh lithium-ion battery; seven-speed transmission, rear-wheel drive


The XL1 looks like it will go for somewhere between $48,000 and $64,000 in 2013.