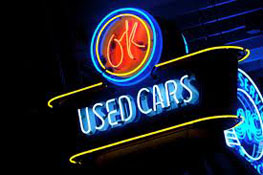 Other than the obvious steps to finding a reliable used car, accident damage, vehicle history report and clear title, some makes and models have an established history of reliability. Based on what owners have reported, recall data and cost of ownership these cars ranked above average for reliability.


2009 Pontiac Vibe


2008 Hyundai Sonata


2004 Acura TSX


2004 Toyota RAV4


2011 Honda Fit


2011 Honda Fit


2011 Mazda3


2006-07 Honda Accord V6


2004-07 Toyota Highlander V6


2011-12 Toyota Camry 4-Cyl


2007-08 Honda Pilot


2009 Mazda CX-9


2009 BMW 328i


2010 Toyota Avalon


2007-08 Acura MDX


2008 Lexus RX


These 2003 – 2012 Models are noted for having less than average reliability and high cost of ownership


BMW 7 Series


Ford F-250 6.0 Liter diesel


BMW X5 6-cyl


GMC Acadia


Chevrolet Uplander


Jeep Wrangler Unlimited


Chrysler PT Cruiser


Kia Sorento V6


Chrysler Town & Country


Mercedes-Benz GL-Class


Dodge Caravan


Mini Cooper S


Dodge Grand Caravan


Nissan Armada


Dodge Journey


Saturn Outlook


Dodge Ram 2500 diesel


Saturn Relay


Ford Explorer V6, 4WD


Volkswagen Touareg


If you're looking for a reliable used car, do your research and start with a car that historically has been reliable.