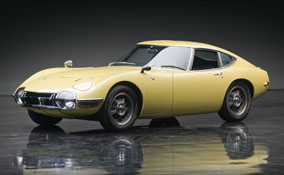 The Japanese Super Car has slowly been on the rise and over the last 4 years has doubled in price.


The Double overhead cam 2.0 liter inline-6 with Triple side draft SU style carburetors was built from 1967 to 1970 and in that time only 351 were built. The 2000GT was ahead of its time with front and rear independent suspension, 4-wheel disc brakes, 5- speed manual transmission and back in the day it sold for $6,800.


The basic M-engine would eventually be used in late model Supra Turbo and Lexus SC 300's. The transmission was actually a 4-speed truck gearbox with a 5th gear extension added to it.


Having had appraised several of these cars I know that they can bring $400,000 to $600,000 when sold at auction. Current estimates say the next one that comes up to the auction block could go for as much as $850,000. Back in the early 2000's these were going for $100,000 to $150,000 and have been steadily increasing ever since. Back in 1992 they were going for $50,000 to $70,000. So what does this trend say about the Future prices of the 2000GT?


If you can get your hands on one, buy it, keep and wait a couple years it could be the best performing investment in your portfolio.