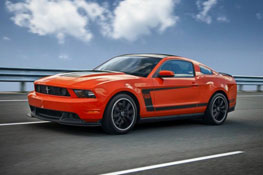 2012 Ford Mustang Boss 302 producing over 444 Horsepower and having a base price of roughly $41,000 the Mustang has to be the best bang for your buck. With the retro styling mad famous in the 60's the Ford Mustang was then the best selling muscle car available.


2012 Chevrolet Camaro ZL1, 550 horsepower and classic styling of yesteryear the Camaro is second in line with base price of $45,000, not bad for a company who just 2 years ago needed a government bailout in order to keep its doors open.


2012 Dodge Challenger SRT8, not unlike the 60's and 70's the Mopars are taking that third position behind Ford and Chevy. An impressive 470 Horsepower Hemi engine and a $43,000 base price, the folks at Dodge seems to have got a late start on the Detroit revival of the Muscle car, but considering gas nearly went to $5/gallon within the last couple of months.


You have to have big steel ones to market these types of vehicles in this economy, ut folks just can't get enough of them, they are as popular today as they originally were when they first hit the market.