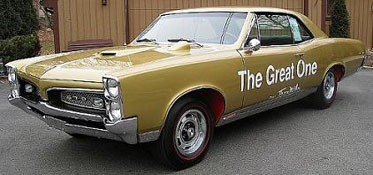 At a time when the Muscle Car market was really starting to grow, 1966 sales of the Pontiac GTO were up over 112% from 1965. There was growing pressure to make these macho Muscle cars safer and GM throttled back its portrayal of the GTO as a muscle car.


Regulatory agency's banned the aggressive marketing of muscle cars across the board. While it seemed nearly impossible to sell the GTO, pursuing that market seemed like suicide. But what if they reclassified the car? Maybe if it was a midsize car GM could capitalize on the small car big engine market.


To get around the advertising restrictions for selling these cars GM partnered up with Thom McAn, which was a popular shoe. They branded a Thom McAn GTO branded shoe. Thom McAn dominated the American top 40 radio stations and the ads featured plenty of GTO engine sound effects and spinning tires.


For Pontiac's roll in the marketing they built 200 '66 GTO hardtops. They featured Gold paint, black vinyl tops, a tri-power 389engine and a 4-speed transmission. The cars were used as promotions in each of the 200 Thom McAn outlets across the country. While there were originally several extremely lucky prize winners, only two of these special cars are now believed to still exist. "The Great One," as it was named, was originally awarded to a Colorado woman who ended up selling it to its second owner.


The car was stolen from its second owner in 1979, but found in a salvage yard 18 years later. This is an extremely rare very well documented GTO.