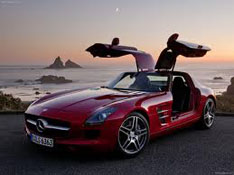 With a Base price of $196,950, you may never actually get to hear what the AMG Roadster sounds like. Well you have to listen to this beast, it's an amazing sounding high performance car, it's not what you would expect from a luxury car manufacturer.


Click here to listen to the SLS...


563 Horsepower, 3,661 pounds, 0-60 mph in 3.7 seconds, top speed of 197 MPH!!!


Fuel injected 6.2 liter V8 engine, 7-speed transmission