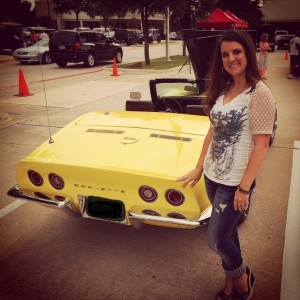 My husband, Rob, and I set out to enjoy that beautiful Texas weather we had in July. Our first stop was at the Late Great Chevy show held at Norma's restaurant in North Dallas.  There was a great group of cars that came out for the evening.  You can see I found the car of my dreams!
The weather was so nice.  We were in no rush.  There were a few Chevelles, a Nova, a 1951 BelAir Deluxe, a 1970 AMC AMX, and many more that looked amazing.  A Sprint SP at the end of one of the rows caught our eyes as we walked on to the lot where the show had already started.  The owner said he bought it out of a junk yard in 1984.  It had been totaled with the entire right side of the vehicle smashed in.  To him, it was his dream project.
A car that was factory rated at over 350 hp, this GMC version of an El Camino was looking pretty awesome.  Maroon metallic paint with gold stripes and logo ran down each side.  The swivel seats and hand laid wooden bed were a great extra that we were not expecting to see.  This vehicle was one of eleven different cars the owner had in his collection.
We meet some of the best people and hear the greatest stories.  We stayed and spoke to a few owners before leaving for the evening.  Our next stop was the patio at Uncle Julio's.
Next up...Good Guys at Texas Motor Speedway in October! Come see us at our booth!