If you have a little bit of cash burning in your pocket, you might want to consider buying one of the world's most desirable Ferraris.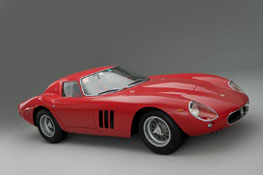 A 1963 Ferrari 250 GTO, (chassis no. 4675 GT), one of only 36 originally produced and one of a limited few with Series II GTO bodywork, is currently up for grabs in a private treaty sale through RM Auctions.


In addition to being considered one of the most beautiful cars ever built by Ferrari, the GTO was tremendously successful in competition, securing multiple World Championships for the Modenese car builder.


In April 1963, 4675 GT left the factory finished in Rosso Cina. It was raced by such drivers as Guido Fossati, Jean Guichet, Oddone Sigala, Vincenzo Nember and Luigi Taramazzo and proved itself a tremendously capable racing car, rarely finishing outside the top three in its class and achieving numerous race wins. It participated in the full range of competitive events, including hillclimbs, endurance races and rallies.


The present owner acquired 4675 GT in 1996, and has maintained it in his exceptional, world-renowned Japanese collection ever since. Most recently 4675 GT has participated in the ultra-private events reserved only for GTO owners, namely the 35th and 45th GTO Anniversary Tours in France and California.