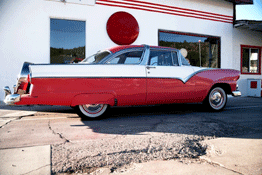 If you are in the market for the classic car of your dreams, you definitely need to do your homework to ensure you get a good deal. Whether it's a '69 Corvette, a '57 Chevy, or a '76 Camaro, having an insider's view of the market will help you know exactly how to find the car you've always wanted. 
Classic cars are generally seen as less expensive than new models, and increase dramatically in value once restored to mostly original condition. Check out some online tips for buying a classic car, which will provide unique insights and information about how classic cars are bought today. Below are a few other tips to consider once you've purchased your classic car of your dreams.
5 Tips for Purchasing a Classic Car
1. Vehicle Transport – Older, classic cars are valued for their age, qualities and overall shine. If you buy a classic car from a dealer and need to move it to a garage for repairs or cosmetic touch up, make sure to look for auto transport options. Getting your classic car moved is a sensitive exercise, and the auto transportation company you choose should be reliable, well-connected with antique and classic car communities.
2. Money Talks – When shopping for a classic car, know the market and have a price in mind that you want to pay. When it comes time to negotiate, show up with cash and make the owner your best offer. Tell him you brought cash to close the deal today and if he is serious about closing the deal, a good offer should be accepted.
3. Don't Look at Your Classic Car as an Investment – Unless you choose to purchase a car that is extremely rare, your classic car purchase is not an investment. You should buy your classic car to drive it, not to make money selling it later. After all, what fun is owning a classic car if you can't enjoy driving it without fear of losing your investment?
4. Take a Look Under the Hood – After getting your car moved to a garage or new warehouse location, bring a trusted mechanic or someone who knows about cars to take a look under the hood. Your mechanic should be an expert in the type of car you've purchased. If your antique car needs repairs, search the Internet or local classic car communities to find a source for necessary parts. 
5. Know You Will Need to Invest Money and Time in Your "New" Classic Car – Unless you spend a pretty penny for a classic car that is in pristine and mint condition, chances are good it will need something done to it. Your "new" car is actually old, so no matter what, there will be things that need attention and that will need to be replaced. Most people purchase classic cars as a project and have the intentions of sprucing them up a bit, but if that is not your thing, you should know that you probably will be faced with a few repairs on your classic car.
If you are a fan of classic cars, there simply is no substitution. These old automobiles have charm, style, and features that simply cannot be replaced by the new, modern cars on the streets today. With the tips above, you'll have insider's knowledge on negotiating a cash price, a mechanical check, transport and warehousing options and more for the classic car of your dreams. Happy motoring!