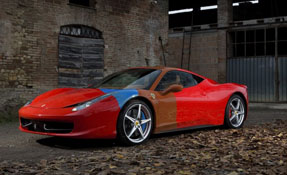 Rosso Corsa is Ferrari Red and translated from Italian to English means "Race Red". Rosso Corsa has been a trademark of all Italian race cars since the 1920's and is the most popular color ordered from Ferrari.


In the early 1990's 85% of all Ferrari's were ordered in Rosso Corsa, currently less than half (45%) of the Ferraris produced are Red.


Ferrari Maranello comments that more buyers are choosing the two-tone paint schemes reminiscent of the Berlinetta Boxer.


"a few Lire more, but in red".