With the kids grown and driving their own cars or off at college and relying on public transportation, you can breathe a sigh of relief that it's time to trade in the family minivan/taxi/sedan/bus and get a car that's all about YOU. You've been salivating over that sports car, daydreaming about sliding behind the wheel of a true gentleman's sedan and longing to hug the speed lane curves in a sexy two-seater. You don't care if youngsters scoff at your choice and call it a midlife crisis car. You're ready. So many choices, so little time...
1. The Corvette
Some might say the Corvette is the quintessential guy's car. Its big V-8 engine and wide body design gives it automotive appeal that men seem hard-wired to appreciate. The fact that it's a classic American car gives it inherent patriotic appeal. The chassis keeps improving in each model. The newest Corvettes excel on the track as well as out on the open road. While some might call buying a 'Vette a typical midlife crisis move, you'll probably be having too much fun making import sports car owners eat your dust to care.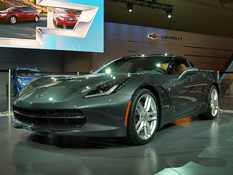 Photo of 2013-2014 Chevrolet Corvette by Michael Gil via Wikimedia Commons
2. Dodge Magnum
Who knew a station wagon could be so hip and manly? With a range of engine choices from 190 horsepower up to 340 as well as a 425 hp Hemi V8, the Dodge Magnum is by far the most muscular station wagon you'll ever see. Its big wheels and beautifully menacing style oozes male appeal. The Magnum is one amazing ride, combining luxury with sheer power, and you'll love its smooth handling. However, Dodge stopped making the Magnum in 2008, so if you just have to have one, you'll have to get it used. Kelley Blue Book has used cars and their prices so that you'll know the going rate for each model year.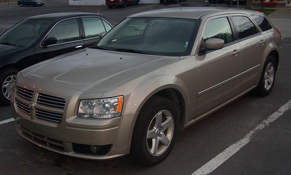 Photo of 2008 Dodge Magnum via Wikimedia Commons. All Rights Released.
3. Chrysler 200 (Sebring) Sedan
For those who want a more low-key and serene ride to help them embrace their AARP years, the Sebring's interior decor and smooth ride can be just what's called for. Solid, functional and oh-so-comfortable, you'll be all set for city driving, commuting or those long drives in the country.
Photo of 2013 Chrysler 200 convertible via Wikimedia Commons. All Rights Released.
4. Dodge Viper
The 2013 Dodge SRT Viper has been reborn, back after a two-year hiatus. Can it live up to its former reputation of performance, speed and ferocity? Viper has been taken to a new level with enhanced interior craftsmanship and driving finesse. It's still powered by a monstrous V-10 engine, but it now includes a number of electronic embellishments plus traction control. The new Viper is said to be as fast as ever, but with better driveability. For the man who doesn't want to just fade off into the sunset as retirement approaches, this car will definitely get you noticed.
Photo of 2013 Dodge Viper SRT GTS by Michael Gil via Wikimedia Commons
5. Lexus LS 460
The Lexus LS has long been a showcase for the latest and greatest from Lexus, with additions and gadgets galore such as push-button starting, radar cruise control (it can keep a set distance from the car that's in front of you), as well as a self-parking feature. For your lucky passengers, there's even an extended wheelbase model that has reclining/massaging rear seats plus a split-screen video system. Convince someone else to drive and you can kick back with a movie and snacks and get a massage as you ride.
Photo of Lexus LS 460 by Altair78 via Wikimedia Commons
Of course, this is just a small sampling of the vast array of auto choices that are available to the discerning male. Don't be afraid to test drive as many vehicles as it takes for you to connect with that perfect ride. You deserve the best.