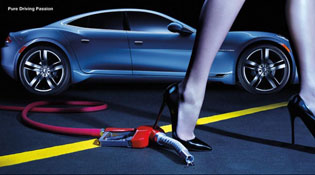 Fisker was founded by Henrik Fisker and Bernhard Koehler, together they share over 51 years of radical automotive design. Together they introduced the world's first premium hybrid electric vehicle, the Fisker Karma.


The Fisker Karma sedan has been crowned 'Luxury Car of the Year' by BBC Top Gear magazine as well as 'Car of the Year' by Top Gear TV presenter, James May.


The Karma – Fisker's first production car – is a 403 hp luxury sedan and the world's first true electric vehicle with extended range (EVer™). In addition to being a four-door four-passenger sedan with sport performance and striking sculptural design, the Karma is also one of the most efficient, low-emission vehicles available today. The Karma combines the zero-emission e No Hocus Pocus: The Fisker Karma just might be the new face of the American car industry.


There are a lot of challenges in bringing a new hybrid vehicle to the market in a time when alternative energy investment had been a political platform. The founders of the Fisker Karma needed resources to develop the vehicle of the future and in 2009 turned to the US Department of Energy (DOE) to lend the emerging company $529 million dollars under the Advanced Technology Vehicles Manufacturing Loan program.


Fisker began manufacturing the Karma at a rate of at few thousand a year in a facility in Finland with expectations of large scale production occurring at a US facility located in Delaware.


It now appears that due to regulatory holdups, and a battery recall that Fisker will not be able to secure the DOE loan. Political pranksters stand in the way and other bad loans associated to the DOE program, gas prices climb as the Middle East has it's issues and perfectly good solution sits underfunded.