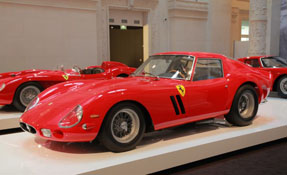 One of the most celebrated automobiles both on the road and on the track. Enzo Ferrari set out to set a new standard when he left Alfa Romeo in 1939. Indeed, the Ferrari 250 GTO was so powerful and well balanced that it set the standard to beat, so much so that the GTO translation Grand Turismo Omologato is roughly "grand tourer homologated" homologated is a standard, something everything else is compared too.


Using all new aerodynamics by Scaglietti a Porsche gearbox, and a 3 liter 300hp V-12 engine, the 250 GTO reined king over the racing world from 1962 to 1964 as a world champion GT racer.


Ferrari only made 39 Ferrari 250 GTO's amazingly all 39 still survive and one of the most sought after vehicles, still setting the standard for collectible vehicles. In the 1960's a new 250 GTO costs roughly $18,000, the record price paid for a 250 GTO is a little over $35 million.