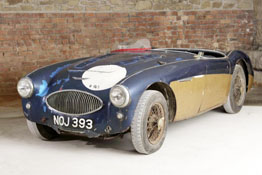 The pictured Austin-Healey recently sold at Bonhams for $1.3 Million. While this particular car had won its class in the 1954 at Sebring and raced in the 1953 LeMans and the La Carrera Panamericana in Mexico, it's more famous for being the car that was hit by Pierre Levegh in his Mercedes-Benz 300SLR launching into the crowd tragically killing Levegh and 83 spectators at the 1955 24 hours at LaMans race.


The accident changed racing forever many manufacturers withdrew from racing and several countries banned racing until safer race tracks were developed.


The car suffered minor damage as a result of the crash and was raced for several seasons after the tragedy. It's now a highly collectible racing icon.