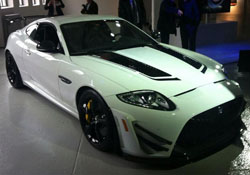 The 2014 Jaguar XKR-S GT was unveiled at this year's New York Auto Show. It gets a new front-end with aerodynamic enhancements thanks to a carbon-fiber splitter and aluminum under tray. It's the first Jaguar to be fitted with a carbon-ceramic braking system.


Engineers have upgraded the front and rear suspension, increased ride stiffness 28 percent up front and 32 percent in back, and dropped the ride height almost half an inch The reworked aero package reduces lift by 26 percent.


To enrich the interior, there's supple stitched leather covering the seats, the dash, and a new steering wheel, and the cabin is trimmed with leather carbon-fiber-like accents and optional dark aluminum inserts.


550 HP 5.0 liter V8 engine


0-60 mph in 3.9 Seconds


22 mpg on the highway


The 2014 Jaguar is slated to be available this summer with an estimated retail price of $174,000.