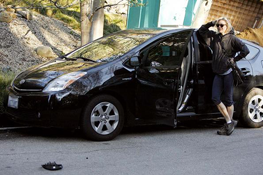 A customer named Michelle from West Seattle called me regarding a diminished value appraisal. She had mentioned she was involved in a car accident in Bellevue which was caused by another driver. The other party's insurance covered the $9,500 repair of her once pristine 2012 Toyota Prius which barely had 22,000 miles on the odometer.  Immediately after it was out of the body shop she decided to trade it in at a Toyota dealership but the dealer would not accept the car since it was in a severe accident and could not be resold as a dealer certified pre-owned vehicle or even on the dealer lot as a used car. The dealership then advised the owner to recoup her loss by getting an appraisal and submitting a diminished value claim to the at fault parties insurance company.  Unfortunately, this is typical of how most people become aware of their rights to a diminished value claim, many times you won't realize your loss until you either sell or trade-in your vehicle. 
Michelle's next step was to find an auto appraiser in the Puget Sound areaof WA by searching the internet. She contacted Auto Appraisal Network because of the professionally designed and informative website which led to calling the local Seattle Auto Appraisal Network appraiser, Mark Ito aka Mr. Ito. Mr. Ito then explained the procedure and cost of the appraisal. It was then pointed out the cost of the appraisal, like all other unreimbursed expenses incurred should be added to the diminished value claim.
The appointment was set at her place of residence. The photo shoot of Michelle's Prius took 40 minutes and her appraisal report was sent to her in 3 days as a .pdf file and a spiral bound hardcopy report 2 days after that via USPS.
Michelle contacted the other party's insurance company with a summary of the diminished value with expenses and received a mutually agreed upon undisclosed settlement. She complimented Mr Ito and Auto Appraisal Network for its professionalism, honesty, and quick turnaround time of the appraisal.
For professional appraisal services in the Seattle area, Call Mr. Ito.
Mark "Mr. Ito"
(425) 445-1071