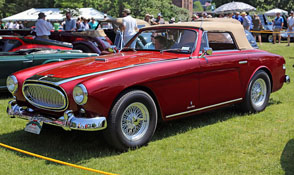 A US made car with Italian designer lines, mini Hemi engine, and retailed for 14 THOUSAND AMERICAN DOLLARS back in the day.


Most Cunningham automobiles were high performance races cars built in Palm Beach Florida but the C3 was the closest Cunningham vehicle to approach production level status. The C3 chassis was built in the USA with a 331 CID Chrysler Hemi engine in it with Quad single barrel carburetors producing 235 hp. It was then shipped to Italy for a handmade aluminum body and shipped back to the US for final assembly. Roughly 45 of these vehicles were built in both Coupe and cabriolet body's.


The founder of Cunningham, Briggs Cunningham had an awesome collection of cars locally called Cunningham Museum in Costa Mesa, California, which closed when he died in 2003. The collection now resides at the Collier Automotive Museum collection in Naples, Florida.


Cunningham's cars bring huge money these days, $550,000 for a nice one, you would be hard pressed to even find one of these rare cars today in restorable condition for $100,000