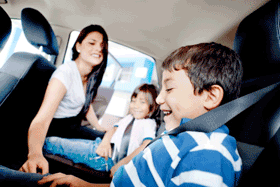 On the one hand, you don't want to spend an hour packing up the car for a short drive. On the other hand, you don't want your little ones screaming and crying for the duration. Packing kids into the family car is an ordeal no matter how long the trip; errands to the grocery store can be just as painful as road trips to visit grandparents when you don't have the supplies to keep your babies safe and satisfied.
However, when your car is perfectly suited to your needs, with all the right storage space and entertainment options readily available, going on drives with the family can actually be utterly joyful. The key is to decide which features you need in your vehicle — and lucky for you, we have the top 10 listed right here.
1. Reverse Camera
No matter how you crane your neck, you will never be able to see 180 degrees around your car — which is precisely what the National Highway Traffic Safety Administration proposes be mandated for all cars in the coming years. All sorts of dangerous things could be hidden in those small blind spaces behind your car — toys, pets, or worst of all, your kids. A reverse camera will tell you what's back there and save you the neck pain, to boot.
2. Simple Controls
As a parent, you should be the safest driver on the road, but too often, you are likely the most distracted behind the wheel, having to cope with crying infants and squabbling siblings during even the shortest trips. Thus, your car should have easy-to-use buttons and touch screens to limit any additional depletion of your attention.
3. Keyless Entry and Start
You have three bags of groceries in one hand, a kid in the other hand, and you still have to dig through your purse (or pockets) to find the car keys. With keyless cars, you will never have to face this situation again.
4. Huge Cargo Space
For as small as they are, kids need a surprising amount of space. Diaper bags, strollers, toys, snacks — the list of kids' travel needs goes on and on. Obviously, you need a cargo space big enough to carry all that junk, but more importantly, you need various cargo compartments around the vehicle to keep basics nearby while you are on the road. The Dodge Grand Caravan is particularly forward-thinking in this department, with built-in grocery bag hooks and storage bins located next to nearly every seat.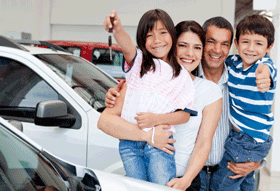 5. Foldable Seats
A pickup truck is definitely not a family car, but sometimes, the family car must function like a pickup truck. For these situations, it is useful to have third- and second-row seats that fold effortlessly into the floor. On most models, you can even upgrade to get power folding seats, so you barely have to lift a finger to triple your storage space.
6. Power Sliding Doors
Though kids seem to have limitless energy, their tiny muscles usually aren't strong enough to open and close car doors with ease. Power sliding doors allow your little ones to hop in the car and get settled without your help, which means you have some extra time to make sure you grab the shopping list before you get to the grocery store.
7. Low Step
Families come in all sizes and ages — and while you have tiny tots who can barely hobble, you might also have aging grandparents who have difficulty climbing in and out of certain vehicles. Cars with steps — or better: low step-in heights — make loading and unloading easier for everyone.
8. Seat Belt Monitoring (and Inflatable Seat Belts)
Buckling in should be the first thing anyone does upon entering a vehicle; after all, seat belts reduce collision-related injury and death by about half. However, seat belts can feel annoying at times, and little ones (and big ones, too) often slip them off mid-trip. With seat belt monitoring, drivers are notified whenever any passenger unbuckles. For added safety, you can also look for innovative inflatable seat belts, which fill with air during a crash to better distribute the forces and prevent discomfort and injury.
9. Integrated Sunshades
The best babies nap when you are on the road, but sometimes glaring sunlight can keep them awake — and angry about it. Aftermarket sunshades rarely stay put on windows, but integrated sunshades can be rolled up and down just like windows to reduce the sun's rays.
10. Parental Controls
Even if your little ones can barely walk, you should think about the not-so-distant future when your babies will be driving on their own. Ford MyKey allows parents to set car controls, including top speed and radio volume, to ensure teens will drive the family car safely.