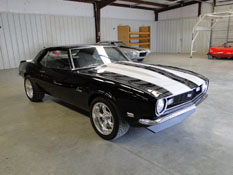 1968 Pro-Street Camaro 
Since late in 2008 the American economy has been suffering.  Prior to the down turn US automakers were turning out an average of 17 million cars per year.  The Automobile manufacturers not only produce cars, but they employ and purchase US manufactures products that go into those cars and the trickle down effects are felt throughout markets not normally associated with the automotive industry.
The big 3 have yet to recover to the levels seen before the recession, but they have become more efficient and returned to profitability.  All this is due to consumer confidence, consumers are employed and able to buy necessities such as reliable transportation.  Once the confidence has returned those same folks are looking for investment to make their money grow such as classic cars.  Classic Car sales are back to where they were prior to the recession and record prices are once again being paid for those rare investments.
Classic Ferrari sales have increased 70 percent since 2010 with no end in sight.  Classic Cars have become the new investment tool when confidence in traditional options like real estate and stocks no longer exists.   The years following the recession showed how traditional investments really perform and what investment can hold their value.
I look forward to seeing more records sales and more folks living the American Dream.
Protect your investment.  Have it Appraised!