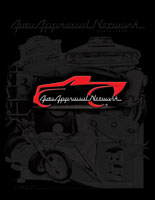 The latest issue of Hemmings Motor News was sitting on my dad's coffee table as I visited for the weekend. I flipped through a few pages to pass the time as I waited for the rest of the family to arrive. The first few pages included ads for classic car insurance, Mecum's upcoming auctions, and a variety of automotive products. The page that caught my eye was entitled "How Much Is It Worth?" The March 2013 Automania section was reprinted from the September 2007 issue. Richard Lentinello, the magazine's executive editor, explained the importance of hiring a professional appraiser when you are ready to sell or buy a vehicle.


• Appraisals must be done in person to offer a true value.


• The quality of the body and panels must take into account the installation, original parts, and repairs. They affect the value just as much as the basic make, model, and year.


• Paint can be valued if it is the original paint in good condition or a new paint job that does not have overspray or orange peel.


• Trim, bumpers, chrome, carpet, headliner, door panels, and seat cushions can all affect a car's value.


• You need an appraiser that will have access to accident history, look for matching-numbers engines and transmissions.


• A professional appraiser can help you sell your current car and even appraise for a pre-purchase on a car you are interested in buying.


The Auto Appraisal Network is the resource you are looking for when it comes to appraising and documenting the value of your vehicle. Let our family owned Dallas area location help you with your Classic and Collectible Car Insurance, Diminished Value and Prior to Loss Insurance Claims, Fair Market Value and Pre-Purchase Inspections of vehicles. Owner and certified appraiser, Ron Gibson, will come to you throughout North Texas and the DFW Metroplex and fully document your custom or stock car, motorcycle, truck, or watercraft. Each appraisal is supported by market research, specialized experts, an extensive database of comparable classic cars, the latest collector car sales data, and historical valuation data.


Stephanie Schoendienst