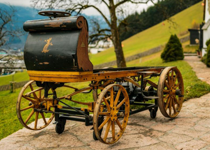 Porsche revealed that it has acquired the first car ever designed by founder Ferdinand Porsche.
The "P1" Egger-Lohner was an electric car designed by Ferdinand Porsche at the age of 22 and powered by a rear mounted 3 hp electric motor and a 12-speed control unit, which was most likely similar to a stepped resistor network similar to those used in vintage golf carts.  The P1 was based on a Egger-Lohner carriage and weighed 2,977 lbs. P1 had a top speed of 21 mph and could go nearly 49 miles on a single charge.
Of course the Porsche brand as we know it wouldn't actually come about until 1948 after Ferdinand Porsche had worked for several other German manufacturers of the period including Mercedes-Benz.  The 356 was the first model produced by the Stuttgart based Porsche sports car manufacturer that we know today.