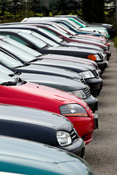 Shopping for a pre-owned vehicle does not have to be like going to the dentist or preparing your tax return. The greatest fear when buying a used car is getting it home, only for it not to start the next morning because of some problem with ignition, wiring or worse. But there are several simple steps the potential car buyer can take to minimize anxiety and the possibility of purchasing a lemon.
Inspect, Inspect, Inspect
You do not have to be a grease monkey to recognize obvious tells about a car's overall condition. When shopping at a buy here pay here dealership or buying from a private seller, the first item for inspection should always be the car's engine. A simple way to get an idea of the engine's condition is checking the oil. If you pull out the dipstick and there are metal flakes in the oil, do not purchase the car. The oil should be dark tan in color and should not smell like gasoline. Similarly, the transmission fluid should be a pinkish color and also not have any metal flakes in it. There should be no puddles underneath the vehicle, as leaks can not only be expensive to fix, but can lead to further complications, including viscosity or thermal breakdown. All of the exterior paint should match perfectly and minimal to no rust should be present. Any dents or doors that are not flush with the rest of the car's body may indicate the car has been in an accident, which is a vehicle you want to avoid. If you are not comfortable performing these tasks, have a mechanic you trust inspect the car before closing the deal.
Exercise Due Diligence
Car buyers who know what kind of vehicle they want can use many different resources to get an idea of any quirks or common issues the car may have. Virtually every make and model of automobile has forums online which current owners share stories and give each other advice. A vehicle history report from Carfax or Autocheck can tell you of any reported accidents the vehicle has been involved in and verify its mileage. The prospective buyer should ask the current owner for service receipts to verify any major repairs and maintenance that has been performed on the vehicle.
The Test Drive
This is where you will learn everything you need to know before finalizing the deal. The brakes should be tested by firmly depressing the pedal and listening for any grinding or squeaking noises. The transmission should shift smoothly between gears and the steering wheel should stay straight for a few seconds without you holding onto it. A great test for the car's suspension is driving over speed bumps. Creaking noises can indicate worn shock or struts. The test drive should cover residential streets and a freeway to test its acceleration and high-speed performance.
Authored by: Wendy Tucker