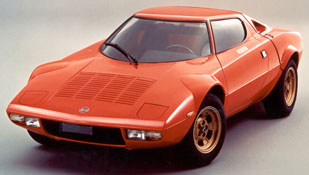 One of the greatest Rally cars ever. 187hp V-6 engine, 2,156 lbs 0-60 in 6.8 seconds.


Half Lancia, Half Ferrari


The Lancia Stratos HF (High Fidelity) was designed by Marcello Gandini of Bertone and debuted at the 1971 Turin Motorshow. It resembled the previous Lancia Stratos in name only. Bertone fitted the Stratos with a Ferrari Dino engine for the 1971 prototype. The Stratos was designed and developed as an all purpose built rally car. In 1972 Lancia confirmed it would use the Ferrari engine for the road and rally cars and production started in 1973, with the production of 400 cars.


The Stratos scored 17 world championship victories and over 50 European championship victories. Victory in the legendary rally Monte Carlo rally was taken four out five times between 1975 and 1979. In total there were 492 Lancia Stratos HF's produced.