The name "Toronado" has no meaning, and was originally invented for a 1963 Chevrolet show car. Conceived as Oldsmobile's full-size personal luxury car and competing directly with the Ford Thunderbird, the Toronado is historically significant as the first front-wheel drive automobile produced in the United States since the demise of the Cord in 1937.


The unusual Toronado powertrain was dubbed the Unitized Power Package (UPP). It was designed to combine an engine and transmission into an engine bay no larger than a conventional rear-wheel drive car.


The Turbo-Hydramatic heavy-duty 3-speed automatic transmission, (or THM400, TH400) came about during development of the Toronado. Called the TH425 in FWD form, the transmission's torque converter was separated from its planetary gearset, with the torque converter driving the gearset through a 2" wide silent chain-drive called Hy-Vo, riding on two 12" sprockets.


We have performed auto appraisals on several of these and the nice ones can be worth $30,000 to $40,000.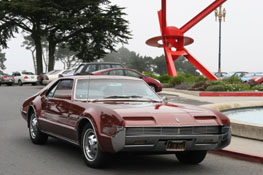 Protect your Investment. Have it appraised!