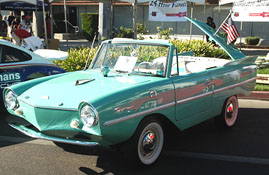 No doubt a great car to have if you live near water. We have appraised several of these and they get surprisingly good money for them.


Built in Germany from 1961 to 1968. 3,878 were built and nearly all of them (3,046) were imported to the Unites States. Powered by a 4-cylinder 43 hp Triumph motor the Amphicar could do 70 mph on the road and 7mph in the water.


The front wheels acted as rudders and it was propelled by twin Nylon propellers.


Due to US government restrictions in 1968 the Amphicar production seized and these dual purpose cars have become collectors items.